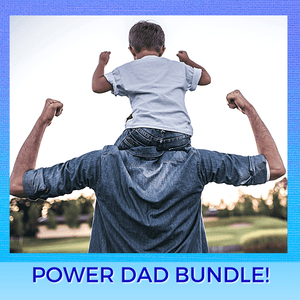 Celebrate the Power Dad in your life today with this special Power Dad Bundle! Save $179 off full retail!
Get ready to fire up those abs, arms, shoulders, and legs - I have a feeling things are about to get extreme! 
Each of these 10 minute programs will help you to torch calories, shred fat, and get stronger than ever before!
⭐ PHIIT Strength  - I'll Make You Stronger in 30 Days...Guaranteed!
Are you ready to become stronger, fitter, leaner, more defined, and healthier?

My PHIIT Strength program is specifically designed to build your strength!

All you need is a pair of dumbbells! No need for barbells, machines or special equipment!

Each day we focus on a specific area, rotating the focus between upper and lower body strength training along with one day dedicated to a full body strength workout.

PHIIT Strength is designed for you to get maximum results in the shortest amount of time.
⭐ Super PHIIT is your total body solution to losing excess body fat, dropping those unwanted pounds, and gaining long, lean, sexy muscle in only 10 minutes a day.
Super PHIIT is a true Total Body Power Workout.
You want a total full body workout that gives you eye-popping definition, strong toned legs, and arms, and shredded abs, well here it is!