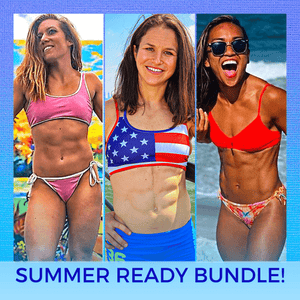 Are You Bikini Ready? Build Sexy, Lean Muscle for the Summer! Save $179 off full retail!
Get ready for Summer with this top to bottom package that gets you swimsuit, tank top, and shorts ready at once!
Each of these 10 minute programs will help you to burn calories, shed fat, and get fitter than ever before!
⭐ Summer PowerAbs Is Your Secret to Getting Insane Abs For The Summer!

These 10 all-new, results-driven ab workouts will challenge your body and push you in new ways to get results. That means you'll see tighter, sexier abs right away! Summer PowerAbs workouts are designed to give you the abs you want to show off!
⭐ Summer PowerArms - Define, Tone, and Sculpt Your Arms in Only 10 Minutes a Day!
Summer PowerArms will tighten your arms, shape your shoulders, and also firm your upper back!

This means no more "flappy arms" and no more "bat wings".

Your arms and shoulders will not only look great, your entire upper body will be sleeker, stronger, and more defined than ever before!